Yes. While the current posts of FARC leaders aren't dependent on four-year election cycles or term limits, Pres. Santos' or any Colombian president's is. This could be seen as putting by definition any president at a disadvantage regarding time, of which the FARC has a different concept hanging out in jungles for about 52 years. On top of that, Pres. Santos has staked his presidency on the peace process, passionately repeated statements of his profound yearning for an overall peace accord to be signed during his presidency, and a Nobel peace prize could be awarded for it. Is it a mere coincidence that Pres. Santos had the formal peace talks ceremonially inaugurated in Oslo in 2012 and Norway included as a "guarantor" country, along with host Cuba, at the peace table? (Chile and Venezuela are "accompanying" countries to the Colombian peace process.)
So, it wouldn't be surprising for FARC leaders or anyone to think that this could predispose Santos to more flexibility or ceding on issues as the clock on his presidency ticks closer toward its expiration.
Whether President Santos likes it or not, he is being perceived (unfairly or not) as showing apparent signs of "over-anxiousness" for an overall peace accord, and this would presumably handicap him and weaken his own negotiating position. Pres. Santos would deny both that he is "over-anxious" and that he has handicapped himself. Moreover, Santos has said that what he does is "millimetricly" planned.
But doubts about this were raised even among some of Pres. Santos' own supporters, as well as among his critics, when breaking news of his out-of-the-blue Havana trip for the signing ceremony on victims and justice surprised the public and smacked to some of political overtones to give a big breath of air to the Colombian peace process a month before Colombia's October 25 regional/local elections and to have big good news on the peace process before Pres. Santos spoke at the United Nations in late September.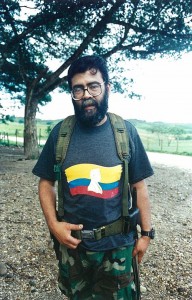 The FARC received a big boost itself by having its maximum leader "Timochenko" standing together and shaking hands in a big flourish three-way with Pres. Santos and Raul Castro. Pres. Santos looked stiff and uncomfortable, unsmiling, as if he were unexpectedly roped into the handshake by Raul joining the hands of Santos, "Timochenko" and Raul. Colombian former president/now Senator Alvaro Uribe and his Centro Democratico political opposition party complained that this, in their view, apparently or by implication put Pres. Santos and "Timochenko" on the same level and supposedly bestowed "legitimacy" in an unnecessary and undeserved way to the FARC, when the FARC has yet to lay down its weapons. Pres. Santos denies this.
But, the international humanitarian diplomat observed, the public handshakes between the top leaders of negotiating sides—like the now famous or infamous (depending on one's point of view) three-way handshake together by an unsmiling Pres. Santos, the FARC's smiling "Timochenko" and a beaming Raul Castro at the Havana ceremony last September 23—usually come after the signing of an overall agreement at the end of negotiations. Paraphrasing what an American university academic wrote to me: What is there now to top that?