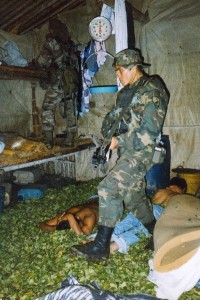 With fanfare before a crowd of invitees, including famous Colombian pop stars and athletes, on February 4 at a White House commemoration of over 15 years of Plan Colombia—a program where Colombia has received some 10 billion dollars in US assistance since its start in 2000 to fight illegal narcotics and help bolster the Colombian state via integrated law-enforcement, military, social, developmental, and economic efforts—United States President Barack Obama and Colombian President Juan Manuel Santos announced a follow-up plan dubbed "Peace Colombia." Designed for an eventual post-conflict and transition to it, Pres. Obama has asked the US Congress to approve some 450 million dollars—$390 million in bilateral assistance and some $60 million for other programs—for fiscal year 2017, up from a reported 310 million dollars that the US Congress approved for Colombia for 2016. It comes as the Colombian government's and the Revolutionary Armed Forces of Colombia (FARC) guerrillas' peace delegations have intensified their negotiations.
Issues to resolve in what Pres. Santos calls "the final stretch—a term FARC leaders are hesitant to use, though they express optimism—include the point of "End of Conflict," bilateral "definitive" cease-fire, gathering of FARC forces for the "laying down of weapons" ("dejacion de armas") and incorporation into civilian society, the selection of judges for a special Tribunal for Peace on war crimes, ratification, implementation and verification of an eventual overall peace agreement, etc. (See sidebar: "Some of the Hardest Issues to Resolve at This Juncture in Colombian Peace Process.") The question is: Where is the Colombian peace process headed, when nothing is binding until everything is agreed upon in a final overall accord that is ratified?
While a lot of the toughest ground seems to have been traversed, the remainder is arduous, and the signing of an overall peace accord in 2016 cannot be taken for granted. Despite what some saw as overly optimistic "happy talk" by Pres. Santos in early February in Washington DC supposedly giving an impression (intentionally or unintentionally) that an overall peace accord with the FARC is practically almost just around the corner—and high expectations that Santos has built since the beginning of the formal peace talks in 2012 when he mused that he thought they could be completed in months—developments have occasionally popped up that take some measure of air out of the optimism, only for it to come back on announcements of good news by the Colombian government and FARC.
The most recent hit to an upswing of optimism happened February 18 when FARC peace negotiators given permission to travel via assistance from the International Committee of the Red Cross from Havana to guerrilla encampments in Colombia to update FARC rank and file on the peace process entered a small town and addressed townspeople in the main square with armed guerrillas present.
Pres. Santos reprimanded the FARC for what he viewed as it breaking protocol, denouncing it of carrying out armed proselytism. The FARC denied it and called the furor an "unjustified controversy." President Santos suspended such visits and said February 19, quoted by Colombia's El Tiempo newspaper: "The time has now run out for finishing the negotiations and the date of March 23, agreed by the President of the Republic and the Commander of the FARC, is less than five weeks away. It is necessary to take decisions on the defining points that still remain."
This episode is an example that the potential misreading of each other (and of each other's respective hands of cards) or miscalculations by either side or both—including on public-opinion and political currents inside Colombia—can undermine the talks, and that brinksmanship can lead to unintended, undesirable consequences. Because of that and the remaining complex issues to be negotiated, it cannot be said with certainty, yet, that an overall peace accord will be signed in 2016, though a reasonable argument can be made that the odds for it to happen by the end of 2016 are better than for an overall agreement to be signed by March 23.
Notwithstanding some news stories interpreting Pres. Santos' February 19 statement as practically being an "ultimatum" to the FARC, it appears unlikely that an overall peace accord will be signed by March 23, a date that President Santos and the FARC's maximum leader "Timochenko" (nom de guerre) discussed, but which the FARC leadership saw as an aspired date, not a deadline fixed in concrete. But as one of the FARC's peace negotiators recently wrote to me (I translate the excerpt into English): "The work is hard, but it seems that the light begins to be seen at the other end of the tunnel, of course that difficult enough points remain but we hope that among all we may be able to resolve them."
Said US Secretary of State John Kerry in a joint appearance with Pres. Santos in Washington DC February 5: "The outlook is promising, but the stakes are much too high to take anything for granted, and we don't. No one is in a celebratory status. There is work to be done. We're here to renew the commitment for these months in order to complete the task."
President Santos cited a big boost when the Colombian government and FARC announced January 19 in Havana that they agreed on the United Nations via unarmed observers to be selected from Community of Latin American and Caribbean States (known by its Spanish acronym CELAC) to participate in verification of an eventual bilateral cease-fire and disarmament. This is a very important step before a bilateral cease-fire/ceasing of hostilities could go into effect. But, while Colombian government chief peace negotiator Humberto de la Calle says that this implies that a semantical difference between the word terms "handing over" and "laying down of weapons" has been surmounted and that the FARC accepts to eventually lay down its weapons, verification is a technical mechanism depending on how and when the Colombian government and FARC decide to make the bilateral "definitive" cease-fire/cessation of hostilities—questions which still need to be resolved. The FARC has said that it could start before an overall peace accord. But Colombian Foreign Minister Maria Angela Holguin said that UN/CELAC verification would coincide with or start shortly after the signing of an overall peace accord.
The Colombian government and FARC peace delegations initiated a new Executive Commission January 22 or 23, aimed to expedite the talks. But it remains to be seen if it will be enough for them to reach an overall agreement in 2016. Here in the following are 24 sections where I explore what could be shaping up, and below them, an accompanying sidebar story.