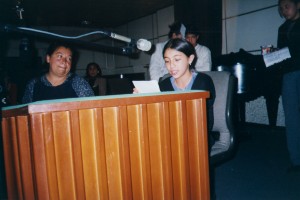 In over a half-century of war, no Colombian warring group is clean of committing horrors, and there are ample examples to point fingers. Human-rights groups blame "paramilitaries" for committing the big majority of massacres in Colombia's armed conflict. Up to some 60% to 80% of war-related killings in Colombia were imputed to "paramilitaries," according to some human rights groups, while the guerilla groups were imputed with about 15% to 30% percent, and the government security forces rounding out about all of the rest.
Carlos Castaño, the leader of the AUC who was reportedly murdered by a handful of his own cohorts in a power struggle supposedly involving his own brother Vicente, justified killing civilians whom the "paramilitaries" viewed as dangerous guerrilla supporters or as guerrillas passing themselves off as civilians because, if not, they could give the FARC information to attack "paramilitaries." "Why wait until they come to kill you and your people? I have a responsibility to protect my people," he told me in rural northwestern Colombia in 2000, as I recall, when I was working as a producer on a TV project for the Discovery/Travel channel's "Robert Young Pelton's the World's Most Dangerous Places." Human rights activists say that this logic has been at times cited when guerrillas have carried out "ajusticiamientos," executions, of their enemies and when members of security forces have taken the law into their own hands and "disappeared" suspected guerrillas.
Colombia's largest newsmagazine SEMANA asked the FARC's "Timochenko" in a recent interview: "What is your opinion when more than 5 million Colombians dressed in white go out to shout no more FARC? Didn't that raise a reflection in the FARC about the validity of its armed struggle?"
"Timochenko" is quoted as responding: "Reflection, yes, one reflects. Of how they [the Colombian state, "oligarchy" or other anti-FARC forces"] are capable of constructing in the imagination of the people from half-truths. I am not going to say from lies, but from half-truths. That is the part in which we in certain measure are at a disadvantage because it has been achieved to impose on the Colombian society and the world a distorted narrative of the conflict. Half-truths are grabbed, half-truths are magnified, and it stigmatizes us. That is the challenge that we have now in this process: try to arrive to an objective and realist reading of that which has been the confrontation. And the part that corresponds to us: we have committed errors, we have made mistakes. We never developed the war for generating terror at the population, at the society, we have developed the war as a political objective. Then, you are not going to find ever a guideline in that sense. There have been cases, but they have been punished."
"Timochenko" acknowledged that the past FARC policy of "retention"/kidnapping resulted in a "very grave" political cost for the FARC. Said "Timochenko" in the SEMANA interview: "It is a method of financing that was justified in a determined moment. We needed to finance ourselves and found that instrument, which really isn't the most humane, and we tried to correct it in the time of Belisario [during the FARC's first peace-process attempt, with Colombian President Belisario Betancur, whose term was 1982-86)]. But as the process wasn't developed as it was proposed, we returned to the confrontation. But there is a moment in which we said: it is necessary to stop this."
"I hate that word 'retention,'" says Fernando Almirez (a fictitious name used due to his fear of violent reprisal), almost crying, who tells a heart-wrenching story of how his farmer father was taken away and murdered in 2002. "It isn't part of my vocabulary. It is just a cynical way to camouflage kidnapping. The FARC seized my father and killed him the same day, but the commanders of the area told my family he was still alive and had us deliver money to them. When the FARC started passing by our farm in 1988 or 1989, they would ask for a goat, and we would give it to them. The paramilitaries later came, and they were brusque, demanding that we give them things, like paying their tavern bills. We had no choice but to comply. Whenever armed people appear asking for favors, no matter who they are, it is coercion, right? A local politician falsely told the FARC that my father was a paramilitary collaborator, and that is why they killed him."
Adding that atrocities have been committed by individuals of all warring groups, Fernando recalled that while he was once invited to an Army Reserve meeting years ago, he was horrified as an active-duty officer boasted that he unashamedly supported "paramilitaries" and had burned two captured guerrillas to death.
In 2013, I mentioned the case of Fernando's father to FARC peace negotiator "Jesus Santrich" in Havana and that the victim's son would like to see FARC leaders in jail for at least 10 years. Santrich replied that family members of the FARC had been killed, too, and that the FARC is open to review its actions for possible mistakes. "This is precisely why it is imperative to achieve peace and stop this terrible cycle of war. Because if everyone continues to take an eye for an eye, then we all become blind," said "Santrich," who is blind from genetic eye-degeneration, except for a point of light in his left eye, he said, not helped by years in the jungle.
The biggest single incident of killing attributed to a FARC unit was when at least some 70-plus civilians were reportedly killed in "collateral damage" in 2002 inside a church hit by a make-shift propane-cylinder mortar projectile launched by FARC guerrillas fighting "paramilitaries" in the village of Bojaya, in northwestern Colombia. The FARC called it a horrible accident. A FARC commission led by FARC Secretariat member and peace negotiator "Pastor Alape" was allowed by the government in 2015 to travel to the area to privately ask residents for pardon, and Pres. Santos says the Colombian government owes Bojaya an apology for not sending its troops there in time to protect it.
"If soldiers and paramilitaries weren't shooting at us from civilian areas, there wouldn't be mistakes like that," said a guerrilla to me. The military and "paramilitaries" had also made that same argument when civilians were killed in cross-fire, blaming the FARC for using "human shields," which the FARC denies.
Asked why the FARC didn't hold a public ceremony to apologize in Bojaya, the FARC's "Timochenko" replied in SEMANA magazine: "We have proposed that all the actors of the conflict come to agreement and do a great act of national contrition. Even more, we go further. We convene all sectors to make a pact of 'never more.' Never more the utilization of arms in the resolution of the political and social conflicts of Colombia. We are willing for that. What we are not willing for is to go to settings where they put us against the wall and take things which are given out of context."
"We have responded to a war that they [the Colombian state, "the oligarchy," and "paramilitaries"] have imposed on us, and obviously in a war there are collateral damages," said FARC peace negotiator alias "Rodrigo Granda" in a British Broadcasting Corporation interview. "Look, for example, when the United States launched the bomb on Hiroshima and Nagasaki. The criminal state of Colombia is responsible for the death and the mourning of our people. We have been victims of that attack and of that violence of the Colombian rulers."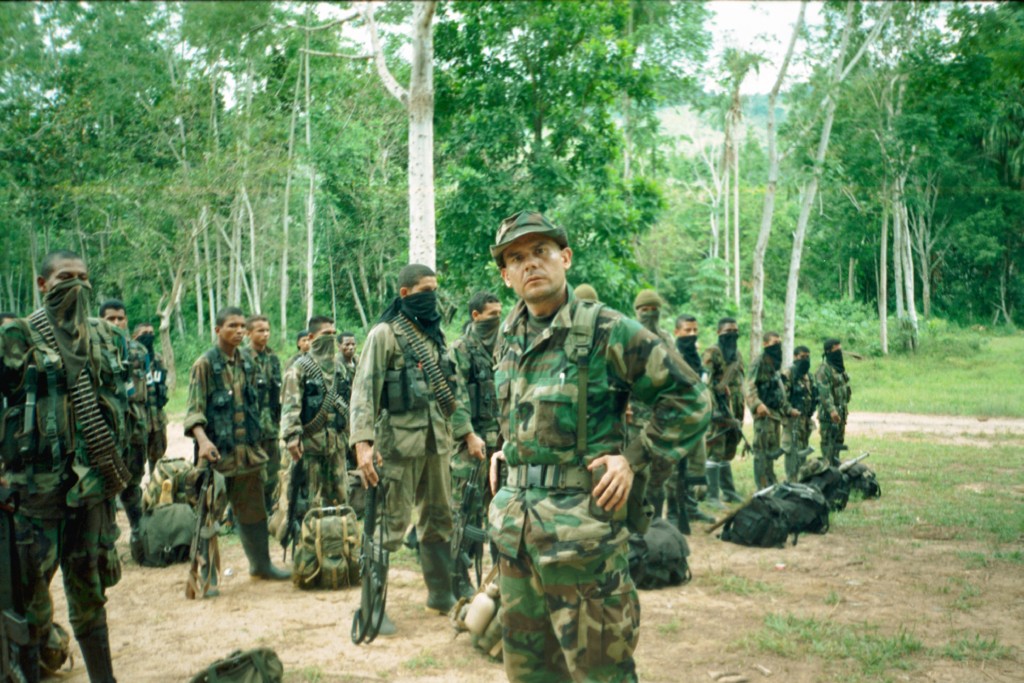 While the Colombian government and great swaths of the Colombian populace blame the FARC for widespread mourning, Colombian military officers, and separately, "paramilitaries" had also made references to the United States dropping atomic bombs on Japan in explaining, if not justifying, the "messiness" of war. "You Gringos like to talk self-righteously about human rights, but the United States dropped the atomic bomb on Hiroshima and is hypocritical," said Carlos Castaño, raising his horse voice and waving his arms, as I recall from our conversation.