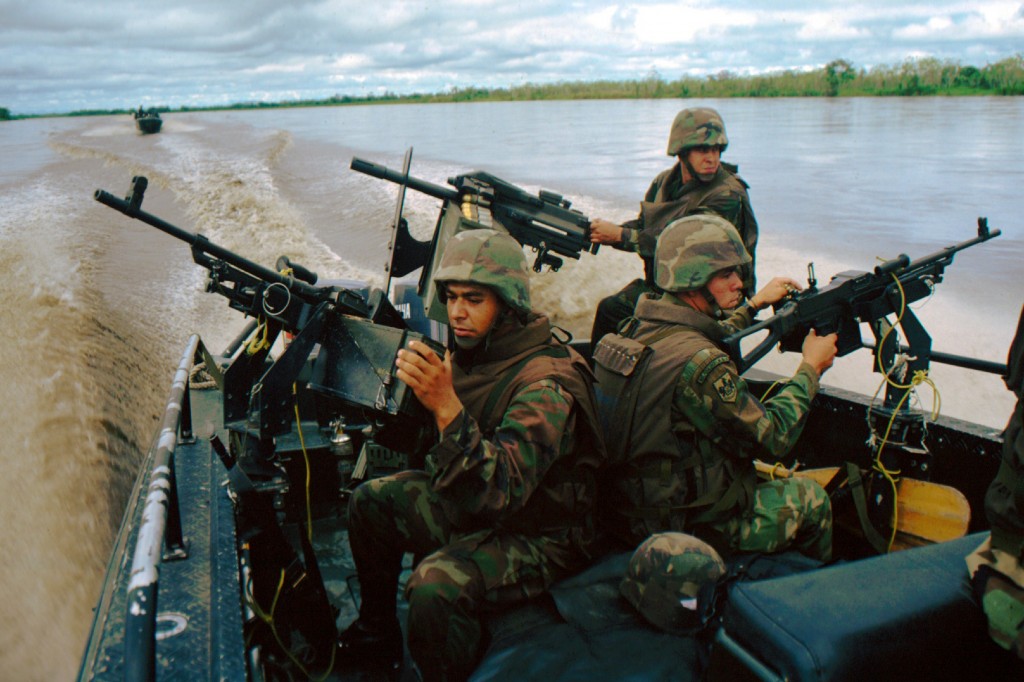 While there may be an isolated, low-level, fortuitous, armed clash on occasion, such as when soldiers go after FARC guerrillas "taxing" civilians, a substantial resumption of fighting between FARC and government troops and more destruction are not in the interests of either the Colombian government or FARC because it could threaten the peace process. But if there were to be a renewal of heavy fighting and damage, like after the collapse of the first FARC unilateral "indefinite" cease-fire, numbers of Colombians wanting a "military solution" against the FARC would spike. As FARC attacks raged after it lifted its first unilateral "indefinite" cease-fire, a high of about slightly more than half of Colombians surveyed in one poll wanted the government to do a military solution. That number has often hovered around a quarter to a third of survey respondents over the three-plus years of the officially announced peace process, and dropping to as low as about a tenth on especially good news.
According to the Colombian Defense Ministry, there are more than 480,000 members of Colombia's military and National Police, with modernized air power, against some 6,700 to 8,000 FARC combatants armed with basic infantry weaponry and home-made propane-gas-cylinder mortars and some 11,000 to 18,000 FARC "militia" in mainly non-combat active support roles. Those figures of FARC strength are down from Defense Ministry estimates of a FARC peak of about 16,900 guerrillas and 20,000 to 28,000 militia persons sometime between the years 2000 and 2002.
The Defense Ministry says that the ELN has about 1,300 to 2,500 combatants, down from about 4,000 to 6,000 in 2000. And military authorities mention that a dissident rump of the predominantly demobilized Popular Liberation Army (EPL) has about 200 or 300 guerrillas, and that there are some 3,000 to 5,500 members of independent BACRIM groups.
Speaking about a year and half or two after the official peace talks started, a Colombian mid-level intelligence officer tracking the FARC said, preferring to remain anonymous, that his non-public figures pointed to the FARC having as many as 14,000 armed combatants, though a Colombian military-intelligence general discarded that number as too high by double.
The FARC and ELN deny any decline and claim that they have more combatants and "militia" than the Defense Ministry estimates, that their combatant and militia forces can be interchangeable, and that they keep exact figures about them a "secret."
Just tallying the FARC's self-declared unit structures of at least 12 fighters called "guerrilleros" to a "squad," two squads to a platoon-like unit called a "guerrilla" (not to be confused with the single guerrilla individual), two platoon-like "guerrillas" to a  "company" of at least 54 "guerrilleros" (including its two "company" leaders), at least two "companies" to a "column," and more than one "column" to the next unit up, called a "front," and the FARC's affirmation of having more than 60 "fronts," grouped into seven or eight regional "blocks," that would add up to more than 12,720 FARC combatants, not including the up to 20 "mobile columns," which the FARC claims to have. However, defense officials believe that many FARC "fronts" are short or practically "shells."
Both the FARC and ELN have had significant numbers of guerrillas under the age of 18 in their ranks. But in February of 2015, the FARC upped its recruitment age threshold from 15 years old, which it said was the bottom age limit mentioned in International Humanitarian Law, to 17 years old. And on February 10, 2016, the FARC announced that it upped that age threshold to 18 years old. This announcement appears not to be retroactive to cover those under the age of 18 already in FARC ranks. However, February 21, the FARC reportedly delivered to a humanitarian commission in Arauca department a 15-year-old FARC member as part of the FARC's stated start to return to civilian society a group of some 13 minors of age who the FARC's "Ivan Marquez" said had entered the FARC when they were under the age of 15 in the condition of "refugees." (It is unclear how many of the 13 are still under the age of 15.)
Others and I talked in depth with the FARC leadership about the minors of age issue and getting them out of the armed conflict—no matter in what organization the minors of age were—and FARC leaders explained that by bringing them into the FARC "family," the FARC has been helping adolescents abandoned in circumstances of misery, some who are orphans, and that those younger than 15 years old were essentially camp followers. The FARC's Secretariat member "Pablo Catatumbo" denounced the Colombian security forces for trying to "infiltrate" minors of age into FARC encampments to gather intelligence so that the Armed Forces could attack the FARC. The Colombian government denies this.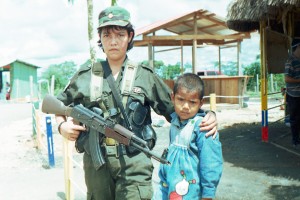 As for respective budgets of the Colombian Defense Ministry and FARC, before the US dollar soared during the past year or two from about 1,800 Colombian pesos for one US dollar to around 3,300 pesos for a US dollar in early February 2016, the Colombian military budget was about 15.5 billion dollars in Colombian local-currency pesos, and now it would be around 9.1 billion dollars at the time of this writing, with the devaluation, even though the Colombian defense budget received about a seven-percent increase in pesos this year. On top of that, a large part of the United States' 10 billion dollars in Plan Colombia assistance since 2000 has been for Colombian security forces.
This swamps the FARC's annual budget. I "guesstrapolate," based on what I understand to be a FARC company-unit-sized budget that annual non-armament/non-combat operational outlays for the entire FARC may be now at around 109.1 million dollars in devalued Colombian pesos, whereas it would have been some 200 million dollars two years ago before the steep peso devaluation. A year or two ago or so, Forbes magazine estimated the FARC's annual income at about 600 million dollars, and the FARC denies that.
The FARC keeps its overall budget secret and rejects as "ridiculous" estimates by some of FARC revenues from illegal activities like drug involvement, mineral-mining racketeering, contraband, extortion, and past kidnappings at billions of dollars annually.
The US State Department officially designated the FARC and ELN as "Foreign Terrorist Organizations" (FTO) in 1997 and the rightist "paramilitary" United Self-Defense Forces of Colombia (AUC) in 2001. The United States added the FARC and AUC to the list of "Significant Foreign Narcotics Traffickers" in 2003, citing the Foreign Narcotics Kingpin Designation Act.
Despite many media stories and judicial charges by Colombian, American, European or other nations' authorities–who cite what they see as evidence of testimonies, documents, drug seizures, forensics, accounting, photos or video–the FARC and ELN have always vehemently rejected accusations of drug-trafficking, saying that they only have charged "taxes" on coca and amapola crops (the materia prima for cocaine and heroin, respectively), as well as on other business activity of those who can afford it.
As I remember during one of my visits to the "Distension Zone" in 2000, the FARC's late "Alfonso Cano," who would eventually become the FARC's maximum commander before being killed by Army soldiers in 2011, told me: "The illegitimate, corrupt, oligarchical state levies taxes, so why can't a revolution do so to fight against it for the rights of the people." FARC leaders have noted that American patriots rebelling against the British crown taxed the population, which the British monarchy and colonial loyalists saw as extortion by outlaws, although the American Revolution and Colombia's internal armed conflicts have big differences and are not equatable.
The Colombian state and its allies "continue to repeat this lie that the FARC is drug-trafficking because they are enemies and use whatever false propaganda to attack us," said the FARC's Ivan Marquez, "and lamentably there are people who accept this lie out of ignorance."
The FARC's maximum leader "Timochenko" explained in a recent interview in SEMANA magazine: "In determined moment, yes, there have been cadres of ours [tempted by the drug business]…but I have said: our cadre that allows itself to be absorbed by drug-trafficking is a cadre that is lost. There are many cases of guerrillas of middle-level cadres of members of the FARC whom we have lost. I have always proposed at FARC level the need of much vigilance with the people who are in those zones of drug-trafficking, even moving them. That is a tremendous culture where the people allow themselves to get absorbed. Then, for example, when you say you [the FARC] are drug-traffickers, man, if we were drug-traffickers, then we would not be revolutionaries because it would be something incompatible. We take advantage of the money that moves through those parts, yes, but that we are linked to the business, no. Drug-trafficking is a culture, a vision of life. A drug-trafficker gets money, for the good life, for enjoying it. One as a revolutionary thinks completely distinct."
The FARC publicly renounced what it calls "retentions" (kidnappings) of economic motivation against civilians, before the inauguration of the formal peace talks, a condition of the Colombian government. Some human rights groups think that the FARC may still be somehow engaged in it directly or indirectly in some cases, which the FARC denies. The FARC justified its taking captives as "retention" for their not paying "taxes," or as the taking prisoners of war of soldiers, police, "paramilitary" vigilantes or others whom it associates as being part of a war effort against it. In the early 2000s, the FARC was imputed to have committed most of a peak of nearly 3,000 kidnappings reported in Colombia one year during that period, according to Colombian law-enforcement authorities. Official statistics show that reported kidnappings in Colombia have plummeted over 90 percent since then.